Huguenot's Music Ministry
Music in worship allows us to show the joy, hope and foundation of our Christian faith. At HUMC, we have opportunities to participate in the Adult Choir and Hand Bell Choir.
The Adult Choir rehearses on Weds at 7:30pm from mid-August through mid-June. A variety of musical styles are presented, always scripturally and theologically based. A major cantata is presented at least once a year.
The Hand Bell Choir rehearses on Sunday at 8:45am September through May. The Bells strive to participate in Worship services every other month and on special occasions and celebrations.
Volunteers are always welcomed to join one or both of these dedicated and committed choirs. To share your musical talent in one of these choirs or to share your solo instrument in Worship, please contact the Director of Music, Stuart Joerg, at 804-272-6820, or at HuguenotUMC@gmail.com.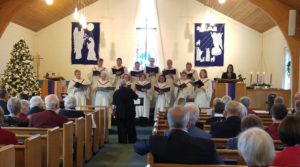 Christmas Cantata, December 2016